Fundraising
As an independent charity we receive no statutory funding and rely on grants and the generosity of our supporters and the local community.
Therefore, every penny raised by our supporters really does make a big difference to the service we can offer.
We simply couldn't do it without you, so thank you again for choosing to support Vision Northumberland.
Fundraising Ideas
Here are a few ideas to get you going – you may also come up with your own unique ideas.
Take on a challenge for Vision Northumberland
Bake and Sell Cakes
Coffee Morning
Sponsored Zip Line or Abseil
Run, walk or cycle for Vision Northumberland (see pic below of Graeme Hughes running in 2017 for us!)
Sell your stuff at a car boot sale or on Have a Clothes Swap evening
Have a dress down fundraising day in your office or workplace
Hold a Quiz Night
Planning
Once you have chosen your activity, do you need to think about the following points?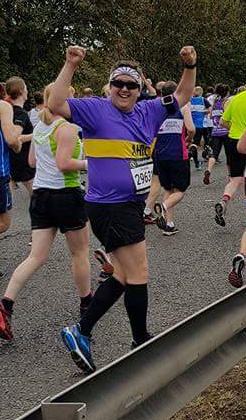 Venue
Date and Time
Who will be involved
How you will promote your activity or event
Inviting guests
How you will raise funds – Sponsorship, Donations, Raffle
Logo
We have a Vision Northumberland logo for our fundraisers and supporters to use. If you would like to use this logo please ask us to email the logo to you.
Press
Some supporters want to publicise their events and activities in the local press. If you would like to do this we suggest please let us know so we can help to supply a press release. Most publications will also allow you to advertise events on their website:
Morpeth Herald
News post Leader
Tynedale Talking Newspaper
Blyth Talking Newspaper
Morpeth Talking Newspaper
Hexham Courant
Social Media
Vision Northumberland has a Facebook page. If you are promoting your event or activity via social media, please send us the information and we can link these to the accounts if you wish.
We can also help to promote your events and activities so please get in touch if you would like us to help with this.
Sponsorship Forms
We have a standard Vision Northumberland sponsorship form and copies can be obtained by calling 01670 514316.
If you are using paper sponsor forms please encourage your supporters to fill in the form fully to enable us to claim gift aid on their donation. Gift aid can be claimed on any donations from individuals who are UK tax payers and is worth an extra 25 pence per pound donated. Gift aid really makes a big difference to Vision Northumberland and therefore we try to maximise how much we can claim by encouraging people to fully fill in sponsorship forms.
Online Sponsorship
Many people now prefer to make donations and pledge sponsorship online, these online fundraising tools make it simple for people to set up their own pages whilst linking to Vision Northumberland. Vision Northumberland has a fundraising page on KindLink Donate .
Raffles
If you are planning a raffle as part of your activity/event, please contact us first for guidance to ensure that it complies with gambling regulations. Please contact our Finance Officer for more details.
Returning Money
Once you have completed your event or activity please return any money raised to Vision Northumberland as soon as you can. Please drop it off at Reiver House. If you would like to pay the money direct into our bank, please get in touch for further details.